World
Video shows Fort Lauderdale Police employee accused of killing girlfriend surrendering to Coral Springs Police – WSVN 7News | Miami News, Weather, Sports | Fort Lauderdale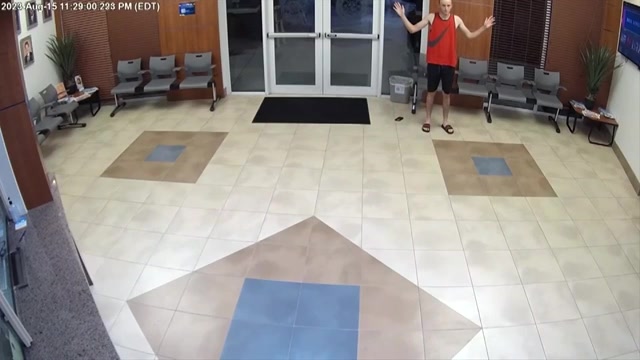 FORT LAUDERDALE, FLA. (WSVN) – Surveillance video shows a detention officer for the Fort Lauderdale Police Department who is accused in the fatal shooting of his girlfriend as he surrendered to police.
The security footage, obtained exclusively by 7News, captured Chase Harder, wearing a red tank top and dark colored shorts, as he entered the lobby of the Coral Springs Police Department, late Tuesday night.
Police said Harder, 21, confessed to shooting and killing his girlfriend in front of his 3-year-old daughter.
The surveillance video showed Harder sitting down next to the entrance of the lobby as he talked on the phone.
"Do me a favor: stand up and put the phone down. Do it now," an officer is heard saying in the video.
The suspect complied and stood up with his hands up.
"Turn around and face away from me. Take three steps back," the officer said.
Moments later, several police officers with their guns drawn approached Harder, put him in handcuffs and took him away.
Detectives identified the victim as 24-year-old Dayanna Hurtado.
Police said Harder shot her at around 8:30 p.m. on Tuesday at an apartment complex located off Ramblewood Drive in Coral Springs.
A resident who identified himself as Jason said he heard gunfire.
"It was one gunshot, then there was about a five-second wait, and then there were like five repeated gunshots after that," he said.
Witnesses said Harder was seen carrying the victim's child over his shoulder before speeding away in a white SUV.
Police said the suspect then dropped the child off at the home of her biological father in Palm Beach County.
On Thursday, Harder faced a judge. He was charged with premeditated murder and written threats to kill or do bodily injury.
Detectives said Harder sent Hurtado text messages threatening to kill her.
Harder remains behind bars
Hurtado's family lives in Peru and are raising money through a GoFundMe page to have her ashes sent back there. If you would like to make a donation, click here.
Copyright 2023 Sunbeam Television Corp. All rights reserved. This material may not be published, broadcast, rewritten or redistributed.