rusain
https://www.rt.com/news/581935-protester-attacks-afd-politician/Protester smears German conservative politician with dog feces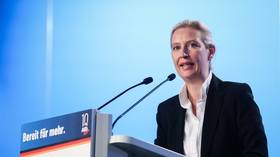 The deputy leader of anti-immigration AfD party has been attacked during a political event in Rhineland-Palatinate state
Alternative for Germany (AfD) party lawmaker Beatrix von Storch has been attacked by a protester and smeared with dog excrement at an event in the western state of Rhineland-Palatinate.
The incident occurred on Friday evening at a forum in the small town of Daun. A 35-year-old man went into the venue, where he approached von Storch and "soiled her with dog feces under the pretext of wanting to take a picture with the speaker," according to a statement by local police. The unidentified assailant was immediately taken into custody by officers and "briefly resisted being tied up."
Von Storch, deputy leader of the AfD, condemned the attack on Saturday in a video message posted on X (formerly known as Twitter). "Yesterday, there was another disgusting attack on me and the AfD in Rhineland-Palatinate," she said. "We fight with arguments. AfD-haters fight with feces. No matter what despicable means they resort to, we will fight unwaveringly and now more decisively for the spiritual and moral renewal of our nation."
Critics have described AfD as far-right and bigoted for its opposition to mass immigration. President Frank-Walter Steinmeier reportedly hinted earlier this month that the country might need to ban the nativist party to protect German democracy. The state-funded German Institute for Human Rights argued last month that the AfD is hostile to the country's constitution and therefore could legally be barred from election.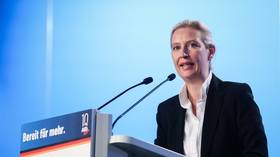 Steinmeier warned that "enemies" of democracy could soon hold enough power to erode German freedoms and "brutalize" society. "We have it in our hands to put those who despise democracy back in their place," he said, apparently alluding to AfD.
German intelligence officials have suggested that AfD members are becoming more "extreme." However, the party is currently backed by more than one in five German voters, second only to the ruling CDU/CSU coalition, according to the latest polling.
Protestors outnumbered AfD participants at Friday's event in Daun by a margin of around 100-125 to 80-85, police said. Von Storch, 52, said she filed a complaint seeking prosecution of her attacker.
The AfD deputy chief has been a member of the Bundestag parliament since 2017. Von Storch's Twitter account was briefly suspended in January 2018 after she blasted police in Cologne for posting a New Year's greeting in Arabic. "What the hell is going on in this country? How come an official NRW [North Rhine-Westphalia] police account tweets in Arabic? Do you intend to appease these barbaric gang-raping hordes of Muslim men in such a way?"
READ MORE:
Most Germans dissatisfied with government – poll
Hundreds of women were reportedly sexually assaulted, primarily by mobs of North African migrants, during New Year's Eve festivities in Cologne at the end of 2015.  
You can share this story on social media: