rusain
https://www.rt.com/russia/581428-putin-high-speed-rail-donbass/Putin hints at plans for high-speed rail to Donbass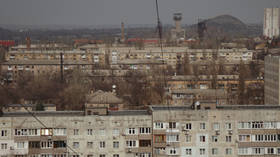 The new transport route would link the cities of Donetsk and Lugansk to Moscow and the Black Sea resort of Sochi, the Russian president has said
Russia should expand its high-speed railway services and the prospects are good for developing a network that links Donbass with Moscow and the south of the country, President Vladimir Putin said on Wednesday.
Speaking at the opening ceremony for a new railway line in Moscow, Putin suggested that high-speed trains which currently connect the Russian capital with St. Petersburg and the Volga region should be extended.
"We must surely develop this system even further," the president said. If a high-speed line were built between Moscow and the Black Sea city of Sochi, Putin noted it would significantly reduce travel times and make a big difference for people heading to southern Russian resorts.
"We must surely think about linking both Lugansk and Donetsk to it," the Russian leader added. Putin also said he believes a broader high-speed train network would provide a boost for Russia's economy and development.
"It would be much easier to study, work or do any other business [if travel times were cut]," Putin said. The massive construction project would also encourage development in the Russian IT, engineering technology, and metallurgy fields, he added.
Russia has already made significant investment in what it calls the "new regions," the four former Ukrainian territories that joined it in autumn 2022 following a series of referendums.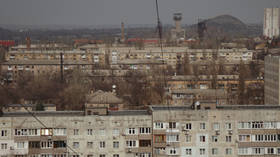 Last week, Health Minister Mikhail Murashko said that Russia had restored or built from scratch a total of 100 healthcare facilities in the regions. According to the minister, 136 more facilities are expected to be finished by the end of the year.
Elsewhere, Russian Deputy Prime Minister Marat Khusnullin has announced plans for the renovation of Donetsk international airport. The facility repeatedly saw heavy fighting after the conflict in Donbass broke out in 2014 when the Donetsk and Lugansk People's Republics declared independence from Kiev. After joining Russia, the DPR reported in November 2022 that the airport had been fully cleared of Ukrainian troops.
Acting DPR head Denis Pushilin has also spoken about the region's plans to restore the airport in the Black Sea port of Mariupol. The city was heavily damaged during intense fighting between Russian and Ukrainian forces, including the infamous neo-Nazi Azov regiment that was entrenched there.
Last week, Pushilin praised the efforts of Russian construction companies for restoring Mariupol. "The city can hardly be recognized" compared to the initial state it was in when Russian troops took over, he said.
You can share this story on social media: