Business
Ireland 29-10 England: Rugby World Cup warm-up international – live reaction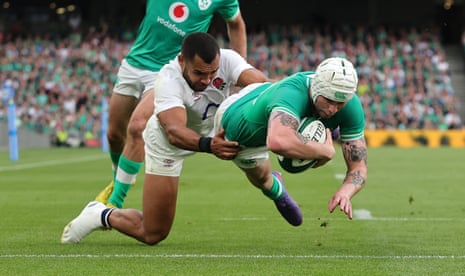 FULL TIME: Ireland 29-10 England
80 mins. PEEEEP! The game peters out via an Ireland lineout.
Key events
78 mins. Marcus Smith is on at fullback and gallops a kick-return up to halfway, this allows Ford to find replacement Theo Dan on a good angle to drive further forward. Once again, however the precision is not great, and Lawrence loses it into touch.
TRY! Ireland 27 – 10 England (Keith Earls)
73 mins. The ball is dropped by England just in their own half and Ireland pounce to drive it forward before Aki flings a monster of a pass out to Earls who swan-dives in to dab it down. The noise is rapturous as the centurion in engulfed by his team mates like some feelgood movie denouement. A great moment.
Crowley converts it.
TRY! Ireland 22 – 10 England (Kyle Sinckler)
71 mins. They started pretty close to the line, and a few carries was all it took for then Sinckler to force himself over.
70 mins. Conor Murray is on for Gibson-Park, and he throws an awful pass that can only generously be described as to Jack Crowley, who does his best but drops it.
England will have a good platform in the Ireland 22.
68 mins. Another England 22 entry looks promising in glimpses, but Ireland are aggressive in defence and eventually hold up an isolated Steward in a choke tackle to win the ball.
This is a vile evening for England. Absolute dreck everywhere, let's be honest.
TRY! Ireland 22 – 3 England (Mack Hansen)
64 mins. A sensible lineout from Ireland has them driving at the line from in close, as England infringe twice in desperation. A few phases later the ball is worked right via another huge pass, this time to Hansen who steps off the touchline to score.
Byrne makes a terrible contact with conversion, again.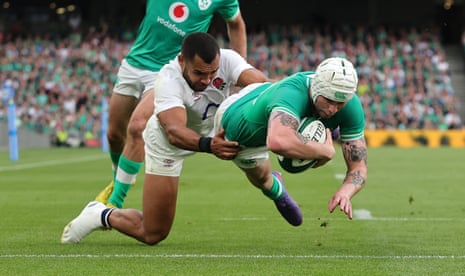 62 mins. Hugo Keenan is caught with a seatbelt tackle by Itoje as the fullback runs into the line.
Jack Crowley has replaced Aki and puts it in the corner.
60 mins. England's first 22 entry for about half an hour has them into double figures of phases, working short pop passes for drives at the line, with Ben Earl prominent. The Irish defence work hard to contain it before geting amongst a ruck to win a penalty.
First glimpse for England is shut down and cleared.
58 mins. Keith Earls is taking the field to a standing, roaring ovation. Wonderful stuff.
He's on for James Lowe.
"So in retrospect how is the idea of only taking one specialist No.8 in the England World Cup Squad looking Lee?" asks Paul Opie.
Well, thankfully for Borthwick, the v7.2 final final final.doc squad doesn't have to be declared until end of the month
TMO Ben Whitehouse has reviewed the Vunipola/Porter incident and has said it's a red: head contact, high degree of danger, no mitigation.
England will need more lawyers this week.
TRY! Ireland 17 – 3 England (James Lowe)
55 mins. The home side up the energy immediatley with England down a man. The work phases in the opposition half, patiently pulling in defenders before a huge Byrne pass is floated left to Lowe to walk in.
Byrne rattles the conversion off the post and out the wrong side.
YELLOW CARD! Billy Vunipola
52 mins. Ireland meander about a bit, gaining about 2 metres via a great many passes and phases. Eventually, O'Mahony is isolated and gives away a penalty.
In the midst of all this, Vunipola has driven his shoulder with no wrap of the arm into Porter's head. The ref has a quick look and wastes zero time in despatching the England 8 to the bin for a sin-bin review.
50 mins. The game is seriously lacking energy, as everybody strolls about between plays and setpieces. As a result there's not a huge amount to report, but Ireland have the ball again, this time around halfway.
Ollie Chessum is on for Dave Ribbans.
46 mins. From a decent lineout position in the England 22, Ireland gather the ball in but do a poor job of protecting it, meaning the ball is wrapped up by the defence and doesn't come out. England win the scrum.
Kyle Sinckler is on for Will Stuart
42 mins. Ireland get in a bit of mess clearing the restart by trying to play it wide left, with the issue wing the furthest person left is Cian Prendergast, who finds himself kicking from deep in his 22 on the touchline. It doesn't go well, as he slices it in-field to give England possession in a promising position.
But, as is the tale of the game so far, the visitors can't capitalise.
George Ford gets us back in play.
A rusty showing from both teams in that opening period, but what comes through strongly is how much better a team Ireland are presently. This is borne out by their five entries into the 22 to England's one – even with the cobwebs, Ireland are getting more done.
40 mins. PEEEEP! Little of note happens after the score and that will be the half.
TRY! Ireland 12 – 3 England (Garry Ringrose)
38 mins. Dan Sheehan is struggling with a bit of leg issue, so Rob Herring has come on. The Ulsterman nails his first lineout to put Ireland on the attack in the England 22. The alignment and timing is much better this time and they pull the visitors right and left before Ringrose is found on the right touchline with a cross-kick from Hansen. The centre steps inside to touchdown despite the attention of some England tacklers.
Byrne pulls the conversion left.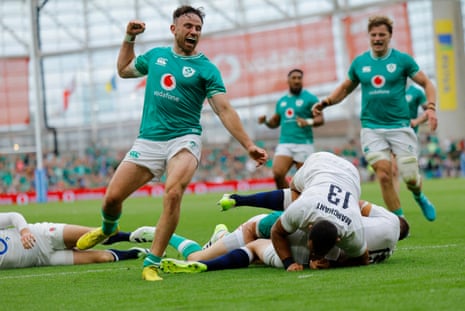 34 mins. Ireland are a bit too flat in their alignment as they try to work their back moves and as a result the ball is thrown behind Hansen and as they try to recover the ball, Ringrose is pinged for sealing off at the ruck. Timing just not there at the minute, but this is only their second warm-up match, lest we forget.
32 mins. The first kicking competition of the day sets, and it's won by Ireland and England drift offside on one of their punts. Ireland will have a lineout just outside the English 22.
29 mins. More red-hot scrums not being completed action is followed by the ball finally getting into play with Ireland. The breakdown is a bit of a mess and England look to have snaffled it, but the ref rules they entered from the side.
MISSED PENALTY! Ireland 7 – 3 England (George Ford)
24 mins. When they have some possession in the Ireland half, England manage to put some shape on their attack, with the ball worked to Tuilagi on the right, then brought back to the left. Hansen in penalised for not rolling away – which Ref Williams is red hot on so far.
Ford points at the posts, but can't slot it. That's a poor miss from just left of the goals.
20 mins. As the minutes pass, Ireland are looking to have more control with their latest attack getting Hansen away on the short side after Lowe drifted off his wing to make the extra man in midfield. Ben Earl is too keen in the breakdown and gives a penalty away, but the visitors are let off by James Ryan, who is offside in the lineout.
18 mins. It's a very competent catch and drive from the home pack, but as the ball makes it's way to the backs the timing is a bit off, leading to the ball being put down.
Ford clears to half way, but it will be Ireland in possession again from the lineout.
16 mins. Ireland continue to enjoy most of the ball after their try, and England are penalised due to Dave Ribbans giving it the full big lummox standing in an offside position, which blocked Gibson-Park's passing route.
It will be an Irish lineout on the England 22.
14 mins. A scrum is attemting to be formed on the halfway line, but Ref Williams is not happy with the first attempt and asks for a reset. He appears most unhappy with the English pack and this is confirmed when he then pings them for and early push. Ireland will take another scrum.
TRY! Ireland 7 – 3 England (Bundee Aki)
9 mins. Will Stuart is caught defending in midfield and allows O'Mahony past him from a van der Flier pop pass. The back row isolates Steward to find Aki who has an easy run in from 15 metres.
Byrne converts.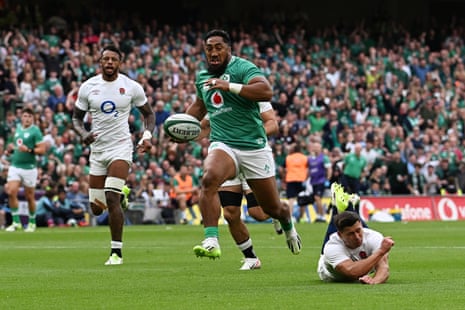 7 mins. From a good position in the England 22, Ireland make a mess of a breakdown, allowing Ford to boom the ball downfield. Keenan covers it and the ball is fed to Lowe who puts massive kick into touch on the England 22.
PENALTY! Ireland 0 – 3 England (George Ford)
5 mins. Tadhg Beirne is slow to roll away in the tackle and is correctly penalised.
Ford wastes no time in putting his team ahead from the tee.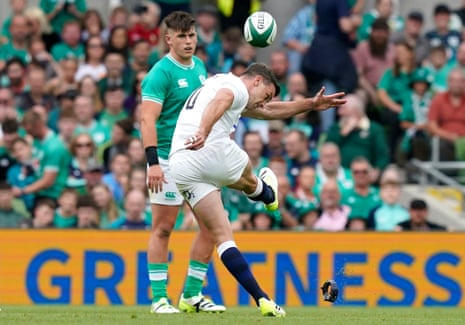 3 mins. Ireland look neat and tidy with their early attacking patterns, but England are aggressive in defence and disrupt the breakdown to steal the ball.
On the first possesion for the visitors, they look equally as organised in attack, but the Irish defence is up to is also.
Honours very even early in the match.
Ross Byrne get the match started with a deep drop-kick
A wonderful moment as Keith Earls is out of the tunnel first, accompanied by his three daughters, on the occasion of his 100th cap.
A great career, from his bolter season in 2008-9 via Grand Slams and a battle with mental health issues he bravely and selflessly made public recently, this a scene no-one deserves more.
Pre-match reading
England are in full siege mentality mode, and are not letting the fact it's a situation entirely of their own making get in the way. Read about all about it here.
Tell me all your troubles and doubts, and stuff you're not worried about either if you want. You can do this on the email or that no longer bird site.
Ireland are without captain and post-match referee mitherer, Johnny Sexton with Ross Byrne preferred to start ahead of the in-form Jack Crowley. In the pack, Cian Prendergast gets a debut at 8 alonside the usual back-row pairing of O'Mahony and van der Flier.
Unless you've been on a media blackout, you will already know that George Ford is in the fly-half berth for England, paired with Ben Youngs in the halves. Courtney Lawes starts both on the blindside and as captain.
Ireland
15 Hugo Keenan, 14 Mack Hansen, 13 Garry Ringrose, 12 Bundee Aki, 11 James Lowe, 10 Ross Byrne, 9 Jamison Gibson-Park, 1 Andrew Porter, 2 Dan Sheehan, 3 Tadhg Furlong, 4 Tadhg Beirne, 5 James Ryan (captain), 6 Peter O'Mahony, 7 Josh van der Flier, 8 Cian Prendergast
Replacements 16 Rob Herring, 17 Jeremy Loughman, 18 Finlay Bealham, 19 Joe McCarthy, 20 Caelan Doris, 21 Conor Murray, 22 Jack Crowley, 23 Keith Earls
England
15 Freddie Steward, 14 Anthony Watson, 13 Joe Marchant, 12 Manu Tuilagi, 11 Elliot Daly, 10 George Ford, 9 Ben Youngs; 1 Ellis Genge, 2 Jamie George, 3 Will Stuart, 4 Maro Itoje, 5 David Ribbans, 6. Courtney Lawes (C), 7 Ben Earl, 8 Billy Vunipola
Replacements: 16 Theo Dan, 17 Joe Marler, 18 Kyle Sinckler, 19 Ollie Chessum, 20 Jack Willis, 21 Danny Care, 22 Marcus Smith, 23 Ollie Lawrence
The form team of the past 18 months against a team that need to turn their form around in the next 18 days, both without their captains in the 10 shirt.
England have had quieter weeks. The Owen Farrell not-red card saga continues to play out, with World Rugby and now the England captain's dad weighing in on the inexplicable decision made by Tuesday's disciplinary panel. While this will not be exactly welcomed by Steve Borthwick, it has meant that the many questions regarding the recent performances of his team have been put aside while fans and media alike focus on Shouldergate.
But those questions remain and if the England seen in the past fortnight take the field in Dublin against what we know Ireland are capable of, the result with be like a being voluntarily fed into an immaculately maintained threshing machine; even with Ireland a week behind their opponents in game time, with a comfortable and uninspiring victory over Italy a couple of weeks ago their sole outing of the summer so far.
Everything points to a home win. Many England fans will accept that if there is something resembling a significant improvement in performance.