Business
'We are heartbroken' – Lionesses captain Bright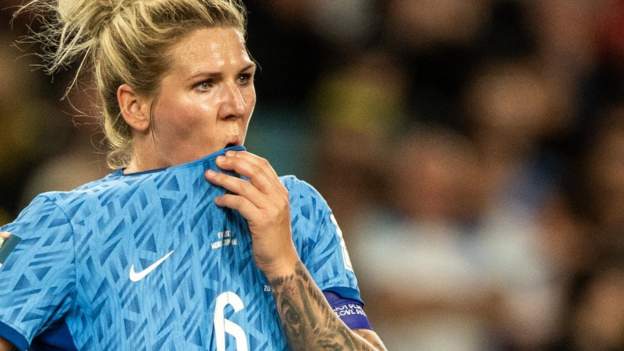 England are "absolutely heartbroken" after losing the Women's World Cup final, says captain Millie Bright.
Spain captain Olga Carmona's first-half goal was enough to give Jorge Vilda's side a 1-0 victory as they claimed their first title on the world stage.
The Lionesses were looking to become the first England senior side since the men's team in 1966 to win the World Cup.
"This is really hard to take. We gave it everything," Bright said.
"We had chances, we hit the bar, but we just didn't have the final edge and they got theirs in back of the net.
"We're absolutely heartbroken. We gave everything. Unfortunately we just weren't there."
England boss Sarina Wiegman has now lost two Women's World Cup finals in a row after she led her native Netherlands to a 2-0 defeat by the United States in 2019.
"Of course it feels really bad now, very disappointing," Wiegman said.
"You go into the final and you want to give everything and then you lose it.
"That happens in sports but what we have done, how we have shown ourselves, who we are, how we want to play as a team, overcoming so many challenges – I think we can be so proud of ourselves, although it doesn't feel like it at the moment."
Wiegman, who suffered just her second defeat in 39 games as England manager, said she hopes to get a "new moment with the team I work with because it's very special to play finals.
"We will start in September in the Nations League to try to qualify for the Olympics. You want to improve all the time," she added.
"This team and this group of players are so eager to be successful. We want to grab every moment to be better. We hope we come back and play good games again to win."
'Lionesses won't stop breaking barriers'
Despite the defeat, midfielder Georgia Stanway said England can be proud to wear a "special" silver medal, but added that she hopes it will be gold in four years.
"It's gutting, it's devastating, but that's football," Stanway said.
"It's hard to watch another team celebrate when it's your goal and your dream. When the dust settles, we'll be really proud of this.
"We've faced a lot in this tournament, before the tournament, people probably didn't have us written to be in this situation, so to reach a World Cup final is an achievement alone.
"We hope we've inspired many many people. We're the Lionesses, so we won't stop what we're doing, we'll continue to break barriers, we'll continue to push on."
England defender Jess Carter, who started six of England's seven matches in Australia, added: "As much as we're disappointed we've achieved something huge here. I'm massively proud of that.
"It's going to be a difficult ride home but we have to reflect on that and take the time to recover, regroup and get ready to go again."
FA chief Mark Bullingham said: "[It] didn't go our way, but to reach our first World Cup Final since 1966, and our first away from home is a huge achievement.
"Everyone is hurting, but we are so proud of the Lionesses, Sarina and the whole support team. We thank them all for everything they have delivered in these special few weeks."
'It hurts but this is a proud moment'
Former England defender Alex Scott said on BBC One that it was a "bittersweet moment" to watch England lose in the World Cup final.
"These Lionesses continue to inspire everybody to want to play, to want to be involved, to want to have a voice," Scott said.
"It hurts but this is a proud moment. To see an England team even make a World Cup final.
"To have everyone at home tuning in, seeing them. They should be so proud of themselves. Yes it hurts but the amount of work and sacrifice that has gone on to get to this moment. This is what we need to remember right now."
Ex-Lionesses midfielder Fara Williams said England's run in the tournament will help to "put respect on women's football".
"They will go back to the UK in a couple of days and they are heroes, getting to the World Cup final, the first time for an England team since 1966," Williams added.
"Little boys will allow little girls to play football together in the playground, that's the difference this will make."
Ellen White, who retired from football after winning the Euros with England last summer, said: "This England side can be so proud of what they have done for this tournament, what they've done for women's football, what they've done for our sport back home as well, inspiring a generation and inspiring and empowering women as well."