Tech
'I Sent Tajik Men's Bodies From Bakhmut,' Central Asian Migrant Worker Claims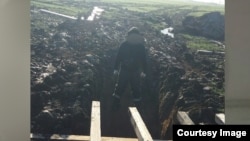 A young Tajik migrant says hundreds of Central Asian workers were "forced" to fight in Ukraine alongside the notorious Russian mercenary group Wagner late last year.
Karim, a pseudonym used for security concerns, told RFE/RL on August 14 that he was able to escape from Ukraine and is now living abroad in fear for his life.
The 22-year-old said he arrived in eastern Ukraine in November last year after being hired by a Russian company to dig trenches in Luhansk, a Ukrainian region that has been almost completely occupied by Russian forces since 2014.
Karim said he was desperate for work after losing his job at a St. Petersburg shoe store that closed due to international sanctions against Russia over its all-out invasion of Ukraine in 2022.
"I saw an online job ad that offered about $60 a day to dig trenches in Luhansk. When I called the number in the advertisement, they told me to come to Moscow," Karim said.
The "well-paid" job did not require an official work permit. That made the job even more appealing to Karim, who had no money to renew his expired document.
"In Moscow, the recruiters assured me that the work will be in safe parts of Luhansk. I agreed because I was in a desperate situation," he said.
According to Karim, he was among some 200 workers from Kyrgyzstan, Tajikistan, and Uzbekistan who arrived in the Russian-occupied parts of the Luhansk region on November 3.
The men would spend nights in a building that once was a kindergarten in the Russian-controlled village of Kalynivka, some 50 kilometers from the provincial capital, Luhansk. During the day they would be driven to the Zaporizhzhya Province for work, he said.
RFE/RL cannot independently verify his claims.
Karim showed several photos that show him and some other men inside half-built trenches.
One shows him standing in front of a tank with the letter "Z" — a pro-war Russian symbol — painted on it. He said the photos were taken while he worked in Zaporizhzhya in November.
"They used excavators to dig the trenches. Our job was to put duckboards to cover the bottom of the trenches," said Karim, describing the work the Central Asians performed.
The construction of the trenches was completed on November 20, Karim said. The following day the Central Asian workers had several visitors, including "representatives of the Russian Defense Ministry and fighters controlled by Chechen leader Ramzan Kadyrov," along with several Wagner militants, he claimed.
"The Wagner representatives told us that if we help them in the war in Ukraine they would give Russian citizenship to each of us and our family members," Karim said.
"No one among us agreed to join the war. Then they forced us at gunpoint to board buses. We asked where they were taking us but they said, 'We're going, that's it,'" he added.
Led by Yevgeniy Prigozhin, a billionaire who is a longtime friend of Russian President Vladimir Putin, Wagner has been linked to many atrocities in the war in Ukraine, including the massacre of civilians in the town of Bucha in March 2022.
Karim said the mercenaries brought the Central Asian men to Bakhmut, an eastern Ukrainian city that would eventually fall to Wagner after many months of bloody battle.
The migrant workers were given three days of training in how to use weapons, Karim claimed. On the fourth day they were each given weapons and ordered to join in battle alongside "thousands of violent [Wagner] fighters."
During the next few months, Karim allegedly worked for Wagner as a translator and guide for its new recruits from Central Asia.
"I would teach them about land mines, I would tell them how to distinguish deserters and kill or catch them," he told RFE/RL.
'Fair Trial'
Karim said many Wagner fighters, including the migrant workers from Central Asia, were killed in Bakhmut.
"I sent dead bodies [from Bakhmut] to Tajikistan five or six times," he claimed.
The number of Central Asian citizens killed in Bakhmut is unknown. Following the fall of the embattled city in May 2024, Prigozhin admitted that 20,000 of his fighters had died in Bakhmut.
Karim managed to flee Ukraine in February after allegedly convincing a Wagner commander whom he had befriended to give him a few days off from fighting.
With about $1,000 left from his wages in his pocket, Karim fled to a country where he is currently hiding.
The Dushanbe native, who left Tajikistan for Russia in search of work in 2019, said he is too afraid to return to his home country.
Karim believes Tajik authorities are aware he was once a Wagner member because he had introduced himself when he contacted the families of the dead before sending their bodies to Dushanbe.
Tajik authorities have repeatedly warned their citizens against taking part in military conflicts abroad.
Two men were recently detained in Kyrgyzstan — with one of them sentenced to prison — for fighting as mercenaries in Ukraine.
"If I get a guarantee that I will be given a fair trial in Tajikistan, I will return home," Karim said. "I want to tell how and why I ended up in the Ukraine war fighting alongside Wagner."
Written by Farangis Najibullah in Prague based on reporting by RFE/RL Tajik Service correspondent Mumin Ahmadi.