Tech
Injured dog reunites with owners after going missing in Hawaii wildfires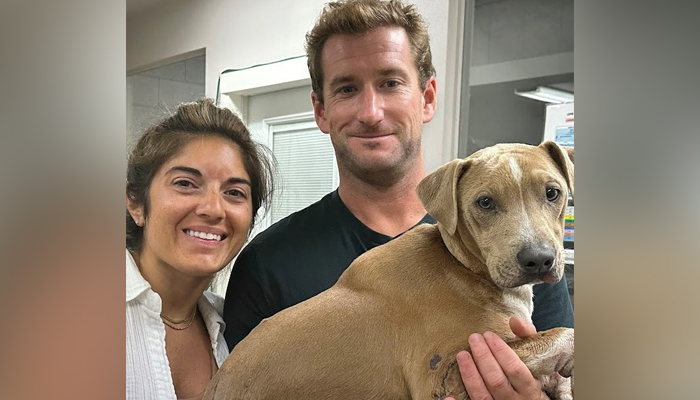 After the deadly blaze burnt hundreds of residences and hotels in Hawaii's Lahaina town leaving more than hundreds dead, there were also several pets that were killed, injured, and reported missing. One of them was rescued and was reunited with its owners.
According to an organisation named Maui Humane Society, which rescued and cared for several such animals a dog named Roman whose legs, paws, and other body parts were burnt.
He was found two days later.
While sharing the heartwarming story, Maui Humane Society said in a Facebook post: "Roman was with a dog sitter when the fires in Lahaina began on Tuesday."
It further read: "The dog sitter had no choice but to jump into the waters of Lahaina to save them but he did not jump in with her. Roman ran off terrified down Front Street."
"On Thursday, Roman was found by Goodfellow Bros staff. Roman was then handed off to a good samaritan and taken to Ma'alaea harbor, and from there he went with one of our humane enforcement officers to be taken to Maui Humane Society for medical care. He was burned on his paws, legs, back and body," the post read.
"Roman was microchipped, we called his owners and they immediately came to the shelter to take their baby boy home. Roman is now safe and with his ohana [family] and doing well according to his owners."
"Roman is just the first of many stories we hope to share about pets being reunited with their owners during this tragedy. We are so grateful to our community for coming together to help our beloved pets, like Roman."
This is one story of several such pets who were injured during this apocalyptic fire.
According to the Maui Humane Society last week, there were 367 reports of missing pets since the fire erupted Tuesday last week.
Another animal charity reported over 3,000 missing pets.
An animal shelter in Pi'ilani Highway received 52 alive animals from Lahaina, including 12 that are being treated for injuries.
Roman was among other eight pets that were reunited with their owners.